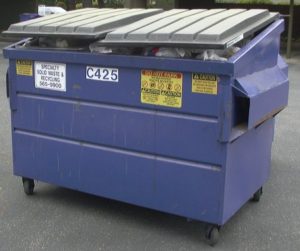 Harford Park Dumpster Day May 6th
It's time for another Dumpster Day at Harford Park! This event is open to Harford Park residents only. You can drop off your items starting at 8 a.m. May 6th by the pool on Queen Anne Drive.  The dumpsters fill up fast, so make sure you get there early while there is still room. The hours are 8 a.m. to noon and the event will be held rain or shine. We will have membership forms available for new members/renewals to save you time and a stamp.
Please make a note of the list of prohibited items below, especially that no electronics will be accepted.
This event is for Harford Park residents only!
Discover Books will be back again this year, with a table for your gently used book donations. Please bring your books in boxes or sturdy bags for transport, as there will be no bin this year.  Read all about Discover Books here: http://www.discoverbooks.com/How-It-Works-s/2516.htm
See dumpster restrictions below. Please read carefully!
DUMPSTER RESTRICTIONS: Any waste not generated in Harford Park; electronics; refrigerators/airconditioners/freezers/appliances with Freon; controlled hazardous substances or liquids (pesticides, acids, caustics, chemicals); explosive or flammable materials or liquids (propane tanks, gasoline, kerosene etc.); medical or radioactive waste; septic or sewage waste; liquids or liquid waste (paint, oil, antifreeze, etc.); automobiles/parts; animal carcasses; drums or tanks; tree stumps over 12 inches in height and over 36 inches across the roots; tree branches or wood over 8×8 inches by 6 feet long (including railroad ties); steel slabs and iron; reinforcing bars and steel rods; wire spools and steel cable; tires of any kind; boats; campers; pickup truck caps; asbestos materials including shingles, and batteries (vehicle/marine) .
The following recyclable or compostable items are prohibited: brush/yard waste, containers (glass, plastic, metal cans, aluminum), paper/cardboard, asphalt/black top, and concrete or rock . These must be set out for recycling pickup (if applicable) or taken directly to the Eastern Landfill. For more information, contact the Eastern Landfill at 410-887-5956.
Remember…Harford Park Residents Only! See you May 6th!