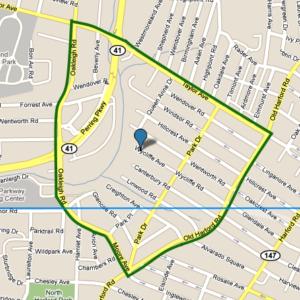 The Harford Park Community Association is a 501(c)(3) non-profit that has existed for development of the general welfare for the Harford Park neighborhood continuously since October 5, 1939.
Harford Park is defined as the section of Baltimore City and Baltimore County, Maryland bounded by the south side of Taylor Avenue, the north side of Moore Avenue, the east side of Oakleigh Road and the west side of Old Harford Road.
Harford Park is a unique community, straddling the legally fixed border between the city and the county and needing to work with two governments with different priorities for and attention to our little suburban neighborhood.
Census Data
Harford Park includes portions of the following three official Census Tracts, which the census bureau uses to determine demographic information over a specific geographic area:
2707.03 (Harford Park in Baltimore City)
4921.02 (Harford Park in Baltimore County east of MD-41)
4914.02 (Harford Park in Baltimore County west of MD-41)
Property Details
The following is a list of properties that make up Harford Park. Send corrections to this list to [email protected].
Beverly Ave
===========
7800 Beverly Ave
7801 Beverly Ave
7802 Beverly Ave
7803 Beverly Ave
7809 Beverly Ave
7817 Beverly Ave
Canterbury Rd
=============
2500 Canterbury Rd
2501 Canterbury Rd
2502 Canterbury Rd
2503 Canterbury Rd
2504 Canterbury Rd
2505 Canterbury Rd
2506 Canterbury Rd
2507 Canterbury Rd
2508 Canterbury Rd
2509 Canterbury Rd
2510 Canterbury Rd
2511 Canterbury Rd
2512 Canterbury Rd
2513 Canterbury Rd
2514 Canterbury Rd
2515 Canterbury Rd
2516 Canterbury Rd
2517 Canterbury Rd
2518 Canterbury Rd
2519 Canterbury Rd
2520 Canterbury Rd
2521 Canterbury Rd
2522 Canterbury Rd
2523 Canterbury Rd
2524 Canterbury Rd
2525 Canterbury Rd
2526 Canterbury Rd
2527 Canterbury Rd
2528 Canterbury Rd
2529 Canterbury Rd
2600 Canterbury Rd
2601 Canterbury Rd
2602 Canterbury Rd
2603 Canterbury Rd
2604 Canterbury Rd
2605 Canterbury Rd
2606 Canterbury Rd
2607 Canterbury Rd
2608 Canterbury Rd
2609 Canterbury Rd
2610 Canterbury Rd
2611 Canterbury Rd
2612 Canterbury Rd
2613 Canterbury Rd
2614 Canterbury Rd
2615 Canterbury Rd
2616 Canterbury Rd
2617 Canterbury Rd
2618 Canterbury Rd
2619 Canterbury Rd
2620 Canterbury Rd
2621 Canterbury Rd
2622 Canterbury Rd
2623 Canterbury Rd
2624 Canterbury Rd
2625 Canterbury Rd
2626 Canterbury Rd
2628 Canterbury Rd
2629 Canterbury Rd
Chambers Rd
===========
7101 Chambers Rd
7103 Chambers Rd
7104 Chambers Rd
7105 Chambers Rd
7106 Chambers Rd
7107 Chambers Rd
7108 Chambers Rd
7109 Chambers Rd
7110 Chambers Rd
7111 Chambers Rd
7112 Chambers Rd
7114 Chambers Rd
7115 Chambers Rd
7117 Chambers Rd
7119 Chambers Rd
7121 Chambers Rd
7123 Chambers Rd
7125 Chambers Rd
Creighton Ave
=============
2421 Creighton Ave
2423 Creighton Ave
2500 Creighton Ave
2501 Creighton Ave
2502 Creighton Ave
2503 Creighton Ave
2504 Creighton Ave
2505 Creighton Ave
2506 Creighton Ave
2507 Creighton Ave
2508 Creighton Ave
2509 Creighton Ave
2510 Creighton Ave
2511 Creighton Ave
2512 Creighton Ave
2513 Creighton Ave
2514 Creighton Ave
2515 Creighton Ave
2516 Creighton Ave
2517 Creighton Ave
2518 Creighton Ave
2519 Creighton Ave
2520 Creighton Ave
2521 Creighton Ave
2521 Creighton Ave
2522 Creighton Ave
2523 Creighton Ave
2523 Creighton Ave
2524 Creighton Ave
2525 Creighton Ave
2525 Creighton Ave
2526 Creighton Ave
2527 Creighton Ave
2600 Creighton Ave
2600 Creighton Ave
2601 Creighton Ave
2602 Creighton Ave
2603 Creighton Ave
2604 Creighton Ave
2605 Creighton Ave
2606 Creighton Ave
2607 Creighton Ave
2608 Creighton Ave
2609 Creighton Ave
2610 Creighton Ave
2611 Creighton Ave
2612 Creighton Ave
2614 Creighton Ave
2616 Creighton Ave
2618 Creighton Ave
2620 Creighton Ave
2622 Creighton Ave
2624 Creighton Ave
Darlington Dr
=============
7100 Darlington Dr
Forrest Rd
==========
1800 Forrest Rd
1801 Forrest Rd
1802 Forrest Rd
1803 Forrest Rd
1804 Forrest Rd
1805 Forrest Rd
1806 Forrest Rd
1807 Forrest Rd
1808 Forrest Rd
1809 Forrest Rd
1810 Forrest Rd
1812 Forrest Rd
1813 Forrest Rd
1814 Forrest Rd
1815 Forrest Rd
1816 Forrest Rd
1817 Forrest Rd
1818 Forrest Rd
1819 Forrest Rd
1820 Forrest Rd
1821 Forrest Rd
1822 Forrest Rd
Glencoe Rd
==========
2500 Glencoe Rd
2501 Glencoe Rd
2502 Glencoe Rd
2503 Glencoe Rd
2504 Glencoe Rd
2505 Glencoe Rd
2506 Glencoe Rd
2507 Glencoe Rd
2507 Glencoe Rd
2508 Glencoe Rd
2509 Glencoe Rd
2509 Glencoe Rd
2510 Glencoe Rd
2511 Glencoe Rd
2511 Glencoe Rd
2512 Glencoe Rd
2512 Glencoe Rd
2513 Glencoe Rd
2513 Glencoe Rd
2514 Glencoe Rd
2514 Glencoe Rd
2515 Glencoe Rd
2516 Glencoe Rd
2516 Glencoe Rd
2517 Glencoe Rd
2518 Glencoe Rd
2518 Glencoe Rd
2519 Glencoe Rd
2520 Glencoe Rd
2521 Glencoe Rd
2522 Glencoe Rd
2523 Glencoe Rd
2524 Glencoe Rd
2525 Glencoe Rd
2526 Glencoe Rd
2527 Glencoe Rd
2528 Glencoe Rd
2529 Glencoe Rd
2531 Glencoe Rd
2533 Glencoe Rd
2535 Glencoe Rd
2537 Glencoe Rd
Hillcrest Ave
=============
2500 Hillcrest Ave
2501 Hillcrest Ave
2502 Hillcrest Ave
2504 Hillcrest Ave
2505 Hillcrest Ave
2506 Hillcrest Ave
2508 Hillcrest Ave
2509 Hillcrest Ave
2510 Hillcrest Ave
2511 Hillcrest Ave
2512 Hillcrest Ave
2513 Hillcrest Ave
2514 Hillcrest Ave
2515 Hillcrest Ave
2516 Hillcrest Ave
2517 Hillcrest Ave
2518 Hillcrest Ave
2519 Hillcrest Ave
2520 Hillcrest Ave
2521 Hillcrest Ave
2522 Hillcrest Ave
2523 Hillcrest Ave
2524 Hillcrest Ave
2525 Hillcrest Ave
2527 Hillcrest Ave
2528 Hillcrest Ave
2529 Hillcrest Ave
2530 Hillcrest Ave
2531 Hillcrest Ave
2532 Hillcrest Ave
2533 Hillcrest Ave
2534 Hillcrest Ave
2535 Hillcrest Ave
2600 Hillcrest Ave
2601 Hillcrest Ave
2602 Hillcrest Ave
2603 Hillcrest Ave
2605 Hillcrest Ave
2607 Hillcrest Ave
2608 Hillcrest Ave
2609 Hillcrest Ave
2610 Hillcrest Ave
2611 Hillcrest Ave
2612 Hillcrest Ave
2614 Hillcrest Ave
2615 Hillcrest Ave
2616 Hillcrest Ave
2617 Hillcrest Ave
2618 Hillcrest Ave
2619 Hillcrest Ave
2620 Hillcrest Ave
2621 Hillcrest Ave
2622 Hillcrest Ave
2624 Hillcrest Ave
2625 Hillcrest Ave
2626 Hillcrest Ave
2627 Hillcrest Ave
2629 Hillcrest Ave
2630 Hillcrest Ave
2631 Hillcrest Ave
Linwood Rd
==========
2500 Linwood Rd
2501 Linwood Rd
2502 Linwood Rd
2503 Linwood Rd
2504 Linwood Rd
2505 Linwood Rd
2506 Linwood Rd
2507 Linwood Rd
2508 Linwood Rd
2509 Linwood Rd
2510 Linwood Rd
2511 Linwood Rd
2512 Linwood Rd
2513 Linwood Rd
2514 Linwood Rd
2515 Linwood Rd
2516 Linwood Rd
2517 Linwood Rd
2518 Linwood Rd
2519 Linwood Rd
2520 Linwood Rd
2521 Linwood Rd
2522 Linwood Rd
2523 Linwood Rd
2525 Linwood Rd
2600 Linwood Rd
2601 Linwood Rd
2601 Linwood Rd
2602 Linwood Rd
2603 Linwood Rd
2603 Linwood Rd
2604 Linwood Rd
2605 Linwood Rd
2605 Linwood Rd
2606 Linwood Rd
2607 Linwood Rd
2608 Linwood Rd
2608 Linwood Rd
2609 Linwood Rd
2610 Linwood Rd
2610 Linwood Rd
2611 Linwood Rd
2612 Linwood Rd
2613 Linwood Rd
2614 Linwood Rd
2615 Linwood Rd
2616 Linwood Rd
2617 Linwood Rd
2618 Linwood Rd
2619 Linwood Rd
2620 Linwood Rd
2621 Linwood Rd
2622 Linwood Rd
2624 Linwood Rd
Marlborough Dr
==============
7101 Marlborough Dr
7103 Marlborough Dr
Middlesex Pl
============
7706 Middlesex Pl
7708 Middlesex Pl
7709 Middlesex Pl
7710 Middlesex Pl
7713 Middlesex Pl
7714 Middlesex Pl
7714 Middlesex Pl
7716 Middlesex Pl
Moore Ave
=========
2500 Moore Ave
2502 Moore Ave
2504 Moore Ave
2506 Moore Ave
2508 Moore Ave
2510 Moore Ave
2512 Moore Ave
2514 Moore Ave
2516 Moore Ave
2518 Moore Ave
2600 Moore Ave
2602 Moore Ave
2604 Moore Ave
2606 Moore Ave
2608 Moore Ave
2610 Moore Ave
2612 Moore Ave
2614 Moore Ave
Oakleigh Rd
===========
7501 Oakleigh Rd
7701 Oakleigh Rd
7703 Oakleigh Rd
7705 Oakleigh Rd
7707 Oakleigh Rd
7801 Oakleigh Rd
7809 Oakleigh Rd
7811 Oakleigh Rd
7813 Oakleigh Rd
7815 Oakleigh Rd
7817 Oakleigh Rd
7821 Oakleigh Rd
7825 Oakleigh Rd
7827 Oakleigh Rd
7829 Oakleigh Rd
Old Harford Rd
==============
7000 Old Harford Rd
7002 Old Harford Rd
7004 Old Harford Rd
7006 Old Harford Rd
7100 Old Harford Rd
7104 Old Harford Rd
7106 Old Harford Rd
7108 Old Harford Rd
7110 Old Harford Rd
7200 Old Harford Rd
7202 Old Harford Rd
7206 Old Harford Rd
7208 Old Harford Rd
7210 Old Harford Rd
7212 Old Harford Rd
7214 Old Harford Rd
7218 Old Harford Rd
7220 Old Harford Rd
7222 Old Harford Rd
7224 Old Harford Rd
7300 Old Harford Rd
7304 Old Harford Rd
7306 Old Harford Rd
7308 Old Harford Rd
7310 Old Harford Rd
7312 Old Harford Rd
7314 Old Harford Rd
7400 Old Harford Rd
7404 Old Harford Rd
7404 Old Harford Rd
7406 Old Harford Rd
7408 Old Harford Rd
7410 Old Harford Rd
7412 Old Harford Rd
7414 Old Harford Rd
7416 Old Harford Rd
7418 Old Harford Rd
7420 Old Harford Rd
7500 Old Harford Rd
7502 Old Harford Rd
7504 Old Harford Rd
7506 Old Harford Rd
7508 Old Harford Rd
7510 Old Harford Rd
7600 Old Harford Rd
7602 Old Harford Rd
7604 Old Harford Rd
7606 Old Harford Rd
7608 Old Harford Rd
7610 Old Harford Rd
7700 Old Harford Rd
7702 Old Harford Rd
7704 Old Harford Rd
7706 Old Harford Rd
7708 Old Harford Rd
Park Dr
=======
7000 Park Dr
7002 Park Dr
7004 Park Dr
7005 Park Dr
7006 Park Dr
7100 Park Dr
7102 Park Dr
7104 Park Dr
7106 Park Dr
7107 Park Dr
7108 Park Dr
7109 Park Dr
7110 Park Dr
7111 Park Dr
7112 Park Dr
7113 Park Dr
7114 Park Dr
7115 Park Dr
7116 Park Dr
7200 Park Dr
7206 Park Dr
7207 Park Dr
7208 Park Dr
7209 Park Dr
7301 Park Dr
7302 Park Dr
7303 Park Dr
7304 Park Dr
7305 Park Dr
7306 Park Dr
7307 Park Dr
7308 Park Dr
7309 Park Dr
7400 Park Dr
7401 Park Dr
7402 Park Dr
7403 Park Dr
7404 Park Dr
7405 Park Dr
7406 Park Dr
7407 Park Dr
7408 Park Dr
7409 Park Dr
7410 Park Dr
7411 Park Dr
7412 Park Dr
7413 Park Dr
7414 Park Dr
7415 Park Dr
7416 Park Dr
7418 Park Dr
7419 Park Dr
7500 Park Dr
7501 Park Dr
7502 Park Dr
7503 Park Dr
7504 Park Dr
7505 Park Dr
7506 Park Dr
7507 Park Dr
7509 Park Dr
7600 Park Dr
7601 Park Dr
7602 Park Dr
7603 Park Dr
7604 Park Dr
7605 Park Dr
7606 Park Dr
7607 Park Dr
7608 Park Dr
7700 Park Dr
7701 Park Dr
7702 Park Dr
7703 Park Dr
7704 Park Dr
7705 Park Dr
7707 Park Dr
7708 Park Dr
7709 Park Dr
7710 Park Dr
7711 Park Dr
7712 Park Dr
7713 Park Dr
7714 Park Dr
7716 Park Dr
Park Pl
=======
7100 Park Pl
7101 Park Pl
7102 Park Pl
7103 Park Pl
7105 Park Pl
Perring Ter
===========
7601 Perring Ter
7603 Perring Ter
7607 Perring Ter
7609 Perring Ter
7610 Perring Ter
7611 Perring Ter
7612 Perring Ter
7613 Perring Ter
7614 Perring Ter
7615 Perring Ter
7616 Perring Ter
7617 Perring Ter
7618 Perring Ter
7619 Perring Ter
7620 Perring Ter
7621 Perring Ter
7622 Perring Ter
7623 Perring Ter
7624 Perring Ter
7625 Perring Ter
7626 Perring Ter
7627 Perring Ter
7629 Perring Ter
7631 Perring Ter
7633 Perring Ter
7635 Perring Ter
Queen Anne Dr
=============
7500 Queen Anne Dr
7600 Queen Anne Dr
7602 Queen Anne Dr
7604 Queen Anne Dr
7605 Queen Anne Dr
7606 Queen Anne Dr
7607 Queen Anne Dr
7700 Queen Anne Dr
7701 Queen Anne Dr
7702 Queen Anne Dr
7703 Queen Anne Dr
7704 Queen Anne Dr
7705 Queen Anne Dr
7706 Queen Anne Dr
7707 Queen Anne Dr
7709 Queen Anne Dr
7710 Queen Anne Dr
7711 Queen Anne Dr
7712 Queen Anne Dr
7713 Queen Anne Dr
7714 Queen Anne Dr
7715 Queen Anne Dr
7716 Queen Anne Dr
7717 Queen Anne Dr
7718 Queen Anne Dr
7719 Queen Anne Dr
Taylor Ave
==========
1803 Taylor Ave
1805 Taylor Ave
1807 Taylor Ave
1809 Taylor Ave
1903 Taylor Ave
1923 Taylor Ave
2001 Taylor Ave
2003 Taylor Ave
2005 Taylor Ave
2007 Taylor Ave
2015 Taylor Ave
2103 Taylor Ave
2105 Taylor Ave
2107 Taylor Ave
2201 Taylor Ave
2203 Taylor Ave
2205 Taylor Ave
2207 Taylor Ave
2209 Taylor Ave
2211 Taylor Ave
2401 Taylor Ave
2403 Taylor Ave
2405 Taylor Ave
2407 Taylor Ave
2501 Taylor Ave
2503 Taylor Ave
2505 Taylor Ave
2507 Taylor Ave
2509 Taylor Ave
2511 Taylor Ave
2513 Taylor Ave
2515 Taylor Ave
2517 Taylor Ave
2519 Taylor Ave
2521 Taylor Ave
2523 Taylor Ave
2525 Taylor Ave
2527 Taylor Ave
2529 Taylor Ave
2601 Taylor Ave
2603 Taylor Ave
2605 Taylor Ave
2607 Taylor Ave
2609 Taylor Ave
2611 Taylor Ave
2613 Taylor Ave
2617 Taylor Ave
Wendover Rd
===========
1800 Wendover Rd
1801 Wendover Rd
1802 Wendover Rd
1803 Wendover Rd
1804 Wendover Rd
1805 Wendover Rd
1806 Wendover Rd
1807 Wendover Rd
1808 Wendover Rd
1809 Wendover Rd
1810 Wendover Rd
1811 Wendover Rd
1813 Wendover Rd
1815 Wendover Rd
1816 Wendover Rd
1817 Wendover Rd
1818 Wendover Rd
1819 Wendover Rd
1820 Wendover Rd
1821 Wendover Rd
1822 Wendover Rd
2500 Wendover Rd
2501 Wendover Rd
2503 Wendover Rd
2504 Wendover Rd
2505 Wendover Rd
2506 Wendover Rd
2507 Wendover Rd
2508 Wendover Rd
2509 Wendover Rd
2510 Wendover Rd
2511 Wendover Rd
2512 Wendover Rd
2513 Wendover Rd
2514 Wendover Rd
2515 Wendover Rd
2516 Wendover Rd
2517 Wendover Rd
2518 Wendover Rd
2519 Wendover Rd
2520 Wendover Rd
2521 Wendover Rd
2522 Wendover Rd
2523 Wendover Rd
2524 Wendover Rd
2525 Wendover Rd
2526 Wendover Rd
2527 Wendover Rd
2528 Wendover Rd
2600 Wendover Rd
2601 Wendover Rd
2602 Wendover Rd
2603 Wendover Rd
2604 Wendover Rd
2605 Wendover Rd
2606 Wendover Rd
2607 Wendover Rd
2608 Wendover Rd
2609 Wendover Rd
2610 Wendover Rd
2611 Wendover Rd
2612 Wendover Rd
2613 Wendover Rd
2614 Wendover Rd
2615 Wendover Rd
2616 Wendover Rd
2617 Wendover Rd
2618 Wendover Rd
2619 Wendover Rd
2620 Wendover Rd
2621 Wendover Rd
2622 Wendover Rd
2623 Wendover Rd
2624 Wendover Rd
2625 Wendover Rd
2626 Wendover Rd
2628 Wendover Rd
2630 Wendover Rd
2643 Wendover Rd
2645 Wendover Rd
Wentworth Rd
============
1801 Wentworth Rd
1806 Wentworth Rd
1807 Wentworth Rd
1808 Wentworth Rd
1809 Wentworth Rd
1810 Wentworth Rd
1811 Wentworth Rd
1812 Wentworth Rd
1813 Wentworth Rd
1815 Wentworth Rd
1817 Wentworth Rd
1819 Wentworth Rd
1821 Wentworth Rd
2490 Wentworth Rd
2500 Wentworth Rd
2500B Wentworth Rd
2501 Wentworth Rd
2501H Wentworth Rd
2502 Wentworth Rd
2503 Wentworth Rd
2504 Wentworth Rd
2505 Wentworth Rd
2506 Wentworth Rd
2507 Wentworth Rd
2509 Wentworth Rd
2510 Wentworth Rd
2511 Wentworth Rd
2512 Wentworth Rd
2513 Wentworth Rd
2514 Wentworth Rd
2515 Wentworth Rd
2516 Wentworth Rd
2517 Wentworth Rd
2518 Wentworth Rd
2519 Wentworth Rd
2520 Wentworth Rd
2521 Wentworth Rd
2522 Wentworth Rd
2523 Wentworth Rd
2524 Wentworth Rd
2525 Wentworth Rd
2526 Wentworth Rd
2527 Wentworth Rd
2528 Wentworth Rd
2529 Wentworth Rd
2530 Wentworth Rd
2531 Wentworth Rd
2600 Wentworth Rd
2601 Wentworth Rd
2602 Wentworth Rd
2603 Wentworth Rd
2604 Wentworth Rd
2605 Wentworth Rd
2606 Wentworth Rd
2607 Wentworth Rd
2608 Wentworth Rd
2609 Wentworth Rd
2610 Wentworth Rd
2611 Wentworth Rd
2611H Wentworth Rd
2612 Wentworth Rd
2613 Wentworth Rd
2615 Wentworth Rd
2617 Wentworth Rd
2624 Wentworth Rd
2626 Wentworth Rd
2627 Wentworth Rd
2628 Wentworth Rd
2629 Wentworth Rd
2630 Wentworth Rd
2631 Wentworth Rd
2632 Wentworth Rd
2634 Wentworth Rd
2635 Wentworth Rd
2636 Wentworth Rd
Windsor Rd
==========
2400 Windsor Rd
2401 Windsor Rd
2402 Windsor Rd
2403 Windsor Rd
2404 Windsor Rd
2405 Windsor Rd
2406 Windsor Rd
2407 Windsor Rd
2408 Windsor Rd
2409 Windsor Rd
2411 Windsor Rd
2413 Windsor Rd
2414 Windsor Rd
2415 Windsor Rd
2416 Windsor Rd
2417 Windsor Rd
2418 Windsor Rd
2419 Windsor Rd
2420 Windsor Rd
2421 Windsor Rd
2422 Windsor Rd
2423 Windsor Rd
2500 Windsor Rd
2501 Windsor Rd
2502 Windsor Rd
2503 Windsor Rd
2504 Windsor Rd
2505 Windsor Rd
2506 Windsor Rd
2507 Windsor Rd
2508 Windsor Rd
2509 Windsor Rd
2510 Windsor Rd
2511 Windsor Rd
2512 Windsor Rd
2513 Windsor Rd
2514 Windsor Rd
2515 Windsor Rd
2520 Windsor Rd
2522 Windsor Rd
2523 Windsor Rd
2524 Windsor Rd
2525 Windsor Rd
2526 Windsor Rd
2527 Windsor Rd
2528 Windsor Rd
2529 Windsor Rd
2530 Windsor Rd
2531 Windsor Rd
2532 Windsor Rd
2533 Windsor Rd
2534 Windsor Rd
2535 Windsor Rd
2601 Windsor Rd
2602 Windsor Rd
2603 Windsor Rd
2604 Windsor Rd
2605 Windsor Rd
2606 Windsor Rd
2607 Windsor Rd
2608 Windsor Rd
2609 Windsor Rd
2610 Windsor Rd
2611 Windsor Rd
2612 Windsor Rd
2613 Windsor Rd
2614 Windsor Rd
2616 Windsor Rd
2617 Windsor Rd
2618 Windsor Rd
2619 Windsor Rd
2620 Windsor Rd
2621 Windsor Rd
2622 Windsor Rd
2623 Windsor Rd
2624 Windsor Rd
2625 Windsor Rd
2626 Windsor Rd
2627 Windsor Rd
2628 Windsor Rd
2629 Windsor Rd
Wycliffe Rd
===========
1800 Wycliffe Rd
1801 Wycliffe Rd
1802 Wycliffe Rd
1803 Wycliffe Rd
1805 Wycliffe Rd
1807 Wycliffe Rd
1809 Wycliffe Rd
1810 Wycliffe Rd
1811 Wycliffe Rd
1812 Wycliffe Rd
1813 Wycliffe Rd
1814 Wycliffe Rd
1815 Wycliffe Rd
1816 Wycliffe Rd
1817 Wycliffe Rd
1818 Wycliffe Rd
1819 Wycliffe Rd
1820 Wycliffe Rd
1821 Wycliffe Rd
1822 Wycliffe Rd
1823 Wycliffe Rd
1824 Wycliffe Rd
1825 Wycliffe Rd
1826 Wycliffe Rd
1827 Wycliffe Rd
1828 Wycliffe Rd
1830 Wycliffe Rd
1831 Wycliffe Rd
1832 Wycliffe Rd
1833 Wycliffe Rd
1834 Wycliffe Rd
1835 Wycliffe Rd
1836 Wycliffe Rd
1837 Wycliffe Rd
1838 Wycliffe Rd
1839 Wycliffe Rd
1841 Wycliffe Rd
1843 Wycliffe Rd
1845 Wycliffe Rd
1847 Wycliffe Rd
1849 Wycliffe Rd
1851 Wycliffe Rd
1853 Wycliffe Rd
1855 Wycliffe Rd
1857 Wycliffe Rd
1859 Wycliffe Rd
1861 Wycliffe Rd
2500 Wycliffe Rd
2501 Wycliffe Rd
2502 Wycliffe Rd
2503 Wycliffe Rd
2504 Wycliffe Rd
2505 Wycliffe Rd
2506 Wycliffe Rd
2507 Wycliffe Rd
2508 Wycliffe Rd
2509 Wycliffe Rd
2510 Wycliffe Rd
2511 Wycliffe Rd
2512 Wycliffe Rd
2513 Wycliffe Rd
2514 Wycliffe Rd
2515 Wycliffe Rd
2516 Wycliffe Rd
2517 Wycliffe Rd
2518 Wycliffe Rd
2519 Wycliffe Rd
2520 Wycliffe Rd
2521 Wycliffe Rd
2524 Wycliffe Rd
2525 Wycliffe Rd
2526 Wycliffe Rd
2527 Wycliffe Rd
2528 Wycliffe Rd
2529 Wycliffe Rd
2530 Wycliffe Rd
2531 Wycliffe Rd
2600 Wycliffe Rd
2601 Wycliffe Rd
2602 Wycliffe Rd
2603 Wycliffe Rd
2604 Wycliffe Rd
2605 Wycliffe Rd
2606 Wycliffe Rd
2607 Wycliffe Rd
2608 Wycliffe Rd
2609 Wycliffe Rd
2610 Wycliffe Rd
2611 Wycliffe Rd
2612 Wycliffe Rd
2613 Wycliffe Rd
2614 Wycliffe Rd
2616 Wycliffe Rd
2617 Wycliffe Rd
2618 Wycliffe Rd
2619 Wycliffe Rd
2620 Wycliffe Rd
2621 Wycliffe Rd
2622 Wycliffe Rd
2623 Wycliffe Rd
2624 Wycliffe Rd
2625 Wycliffe Rd
2626 Wycliffe Rd
2627 Wycliffe Rd
2628 Wycliffe Rd
2629 Wycliffe Rd
2630 Wycliffe Rd
2632 Wycliffe Rd
2633 Wycliffe Rd
2634 Wycliffe Rd